Product Description
Floor mounted electrical jib crane 3 ton price
Brief Introduction--Floor Mounted Jib Crane
Jib cranes are a rotating type crane with a pivoti

ng mast and a boom that carries the hoist. A jib crane can be either floor mounted or wall mounted.

This is the most commonly used Jib crane. Floor mounted jib crane is a self-supporting jib crane having a vertical mast mounted on a concrete foundation. These types of cranes are generally used to share the load of main cranes. All these cranes can rotate 360 degrees and can be electrically or manually operated.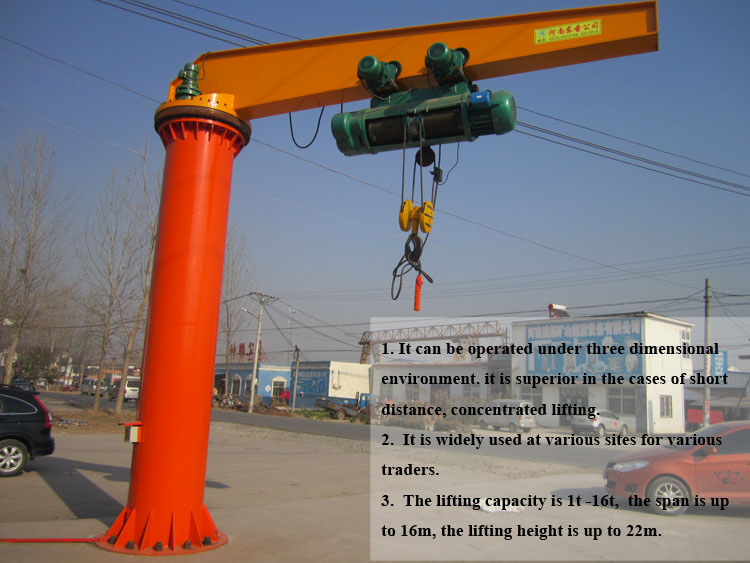 Technical Parameters--Floor Mounted Jib Crane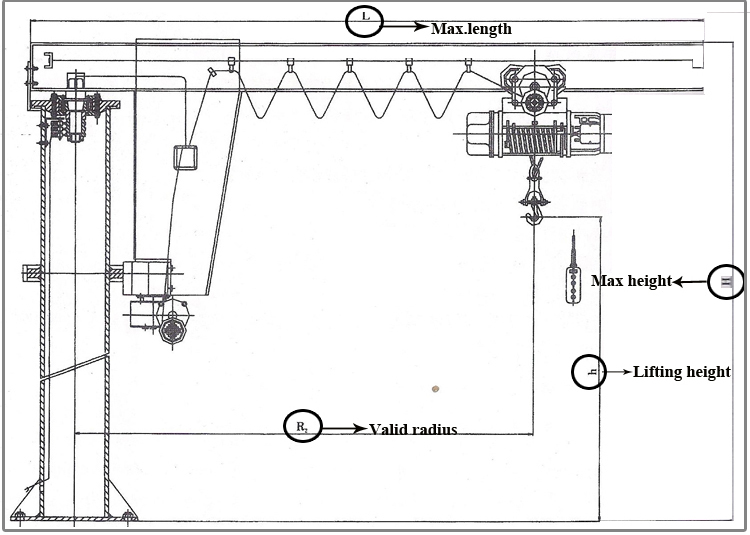 1. Lifting Capacity(T): __ ?( The rated capacity)
2. Lifting Height(m):__ ? (Height from hook center to the floor)
3. Arm length(m): __ ? (Useful hook arm length)
4. Lifting Speed(m/min): __ ? ( Single, Dual)
5. Slewing speed(m/min):__ ?( Standard or as your demand)
6 .Industrial Voltage: __ ? ( like :380V, 50Hz, 3ph )
Safety Features--Floor Mounted Jib Crane

Safety is the most important issue for cranes. To ensure the safety, the following safety devices are equiped in DGCrane.

Hoist traveling limit switch.

Weight overload protection device.

Lifting height limit device.

Voltage lower protection function.

Phase sequence protection function.

Emergency stop function.

Rain cover for outside hoist, driving units, electric cubicle.

Warning indicator: flashing lights and warning sounds.

Wireless infra-detector for anti-collusion.
Application--
Floor Mounted Jib Crane
The most common applications for jibs are individual work stations; machine tools, welding / fabrication stations, and some small assembly stations.

They are also often used in simple loading / unloading operations where it is not necessary to spot a load precisely.

Jib cranes most often handle lighter loads at lower duty cycles than their bridge and gantry crane counterparts.

If there is a need for precise locating of heavy loads, a large area of hook coverage, or frequent use for heavy loads, the jib crane may not be the best solution.
Package & Delivery--Floor Mounted Jib Crane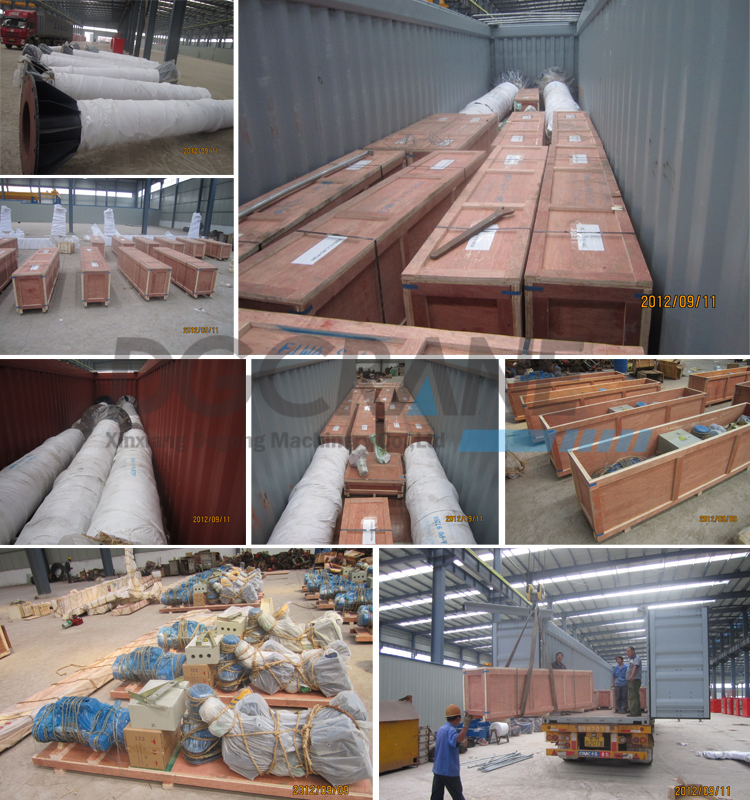 Customers Visit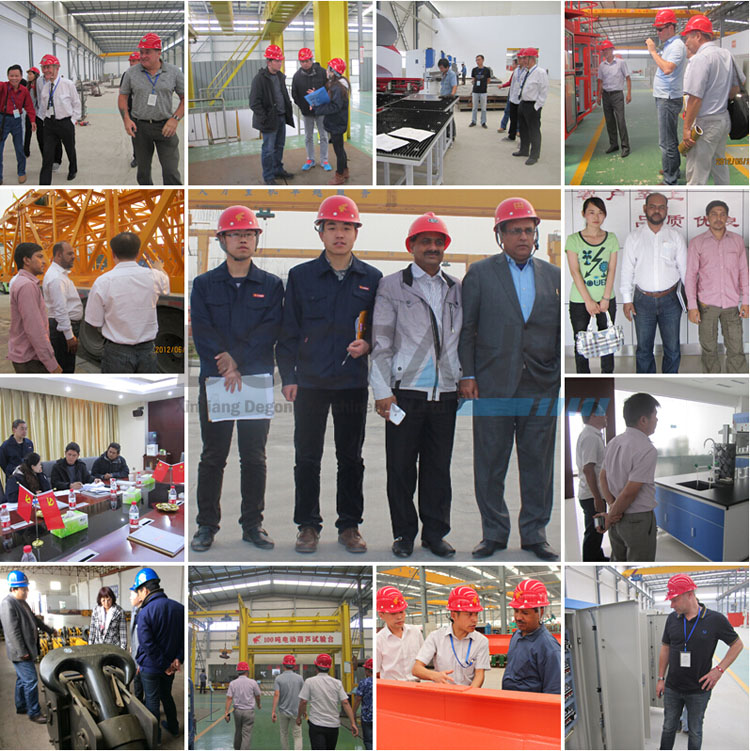 After-sales Service From DGCRANE
You can use our products at ease, the best after-sales service will be offered from DGCrane.
One year warranty.

Providing free quick-wear part.

L

ow charge for continue maintenance when warranty is expired.

Exclusive engineer support at any time.

We can provide free training to end-users.
Other Different Types of Jib Cranes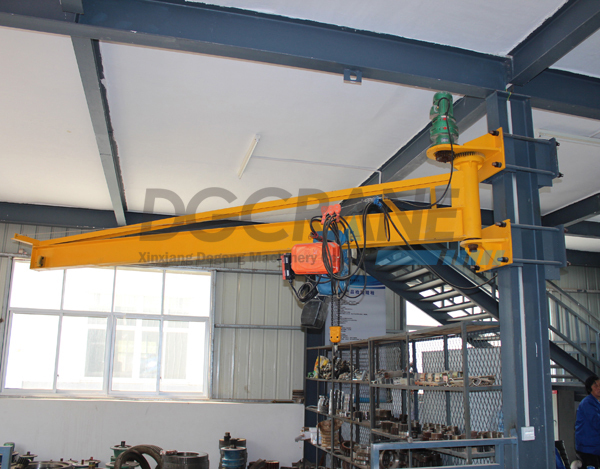 Wall Mounted Jib Crane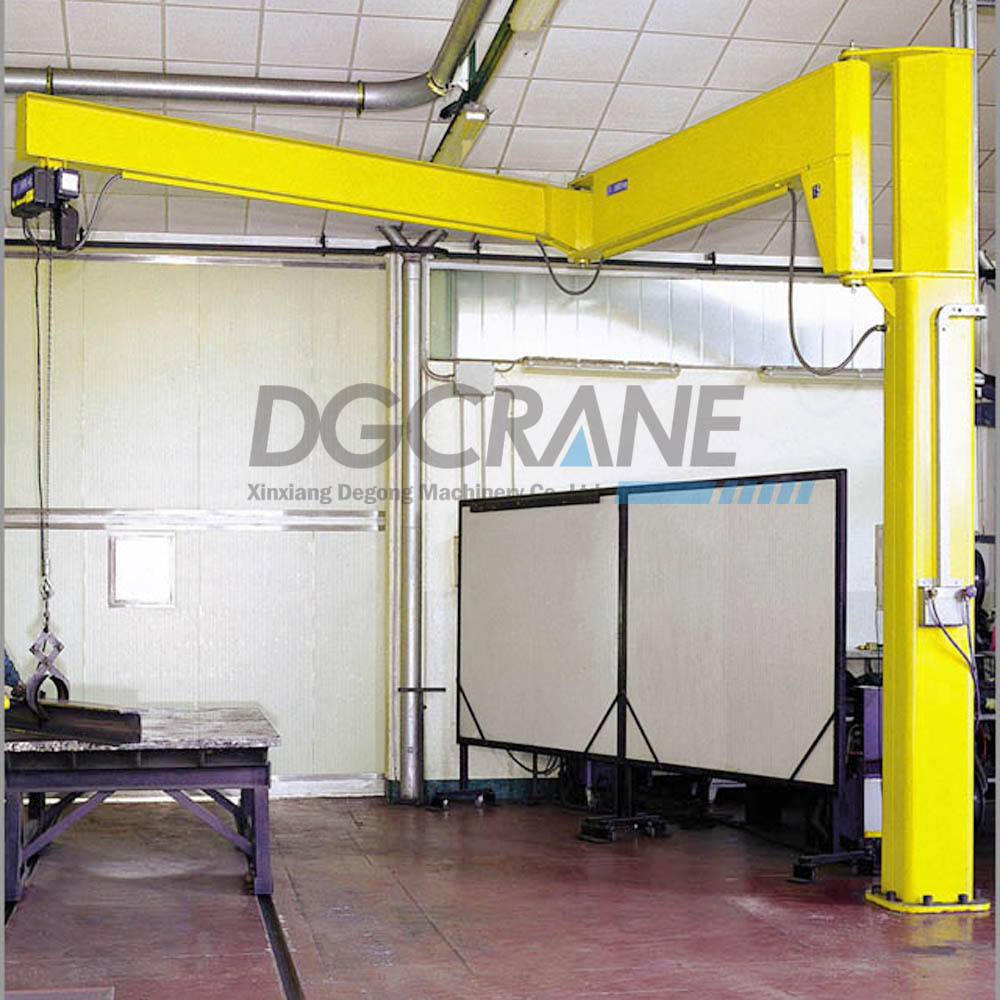 Folding Arm Jib Crane
When it is operated, press button, the loaded object will be lifted up.

This kind of product is suitable for mechanical manufature, and the production or maintain of railway, especially for dense equipment, shorten distance crane, frequent working,

Using this type of machine will improve production effictively.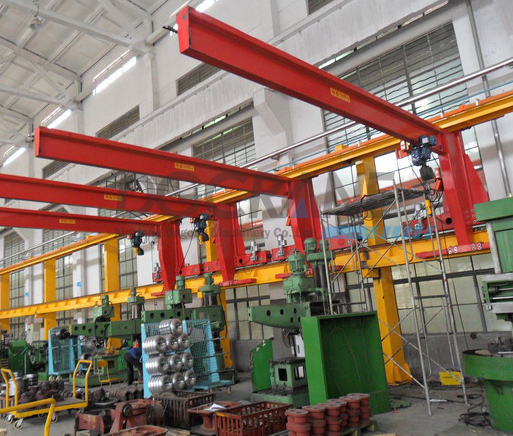 Wall Traveling Jib Crane
Provide long lateral movement of materials without taking up floor space or interfering with large overhead cranes.

Increase overall plant productivity by quickly handling smaller lifts.

You can cover an entire series of work stations using one agile wall-traveling crane for the entire length of your building.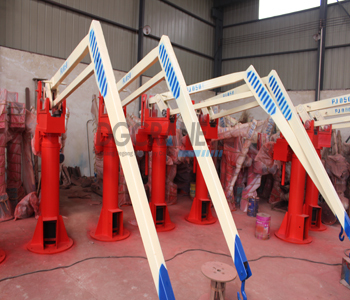 PJ Type Balance Crane
It is the use of four-bar linkage theory, using a simple manual and motor coordination with the formation of a complex movement yo carry hanging objiects.

PJ series balance crane has the characteristics of small size, light weight, pretty look, safe operation etc.

Safting lifting capacity is 1 ton, lifting height is up to 2.6m, swinging radius is up to 3.2m.
About DGcrane