Product Description
Brief introduction for 20ton Double Girder Electric Overhead Travelling Bridge Crane
Double girder bridge crane(overhead crane, eot crane) is applied in open warehouse or rail sideways to conduct common loading unloading and material handling works, it can be divided into working grade of A3~A8 according to the use frequency.
This bridge crane composed of bridge, travelling mechanism, trolley, electric equipment, the bridge frame adopts box welded structure, the crane traveling mechanism adopts separate drive with motor and speed reducer. All mechanism are controlled in driver's cabin. Power supply adopts cable festoon and sliding wire, select one when ordering.
Standard lifting capacity: 5T,10T,16/3.2T,20/5T,32/5T,50/10T, 75/20T, 100/20T, 100/30T, 125/30T, 150/30T, 160/32T, 200/50T, 400/80T, 550/250T, the higher capacity can be custom- sized.
Bridge Crane Types:
· Double Girder Bridge crane for ladle lifting capacity up to 600ton;
· Double Girder Bridge crane for steel factory capacity up to 600ton;
· Double Girder Bridge crane for combustible environment up to 600ton;
· Double Girder Bridge crane with grab lifting capacity up to 50ton;
· Double Girder Bridge crane with hoist trolley lifting capacity up to 80ton;
· Double Girder Bridge crane with magnet lifting capacity up to 50ton;
· Double Girder Bridge crane with electric winch lifting capacity up to 300ton;
· Double Girder Bridge crane with chain hoist lifting capacity up to 30ton.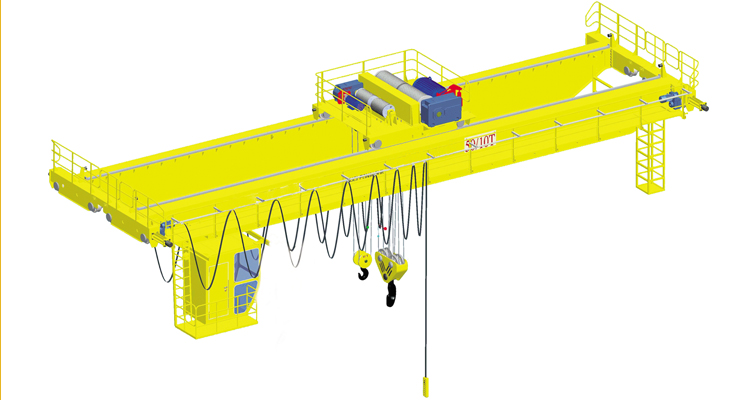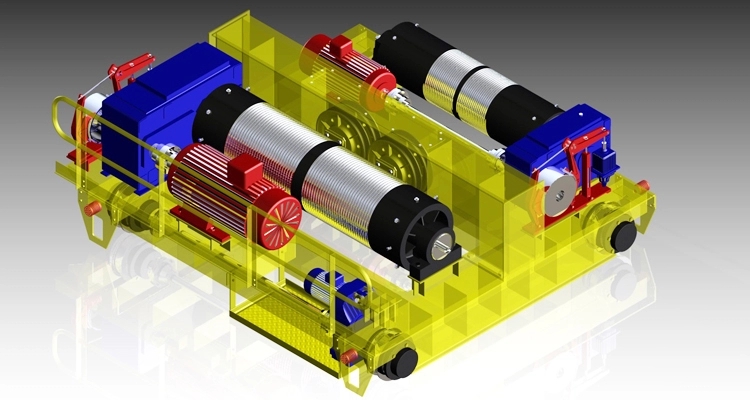 · Crane selection for different usage



LH Double Girder Bridge Crane

Lifting capacity: 1~20ton

Span length: 7.5m~31.5m

Lifting height: 6m~30m

Lifting speed: single speed, dual speed,

Travel speed: single speed, dual speed, variable speed(by frequency converter)

Usage: widely used in plant, workshop, warehouse, materal stock, etc.

Control mode: Pendant panel, Radio remote control.




QD Double Girder Bridge Crane

Capacity from 5t~550ton(standard)

Lifting Height: 16m-26m(can custom- sized)

Span: 10.5m- 31.5m (can custom-sized)

According to the use grade and load up condition, working class can be divided to A5, A6.

Control mode: Pendant panel, remote control, cabin room.



QC Magnet Double Girder Bridge Crane


Control mode: Cabin, pendant, remote.

Work duty: A6~A7

The electromagnetic chunk is suspended under the hook directly, which is in order to dismount and maintenance conveniently.

The electromagnetic chunk adopts to cable drum to supply power independently.

With a protection function of magnetic, it can prevent clog from falling when it is in sudden power failure.




Ladle/foundry Bridge Crane

Mainly used at the metallurgy and foundry place where the molten metal is lifted.

QDY Capacity: under 75ton, YZ capacity: above 75ton.

Working class of complete machine is A7~A8.

Thermal-protective coating is added at the bottom of main girder.




QZ Double Girder Grab Bridge Crane

Heavy duty, work level : A6.

Rated lifting weight includes dead weight of grab.

Walkway entrance way into the cab: from the end, from the side, from the top.

Grab opening direction: parallel to or perpendicular to main beams.

Extract device is a double drum four-rope grab, with simple structure, reliable work. Grab could open and close at any height.

Grab only applies to granular materials in natural piled state, crawling underwater materials or special materials shall be specially made when ordering.
· Technical Parameters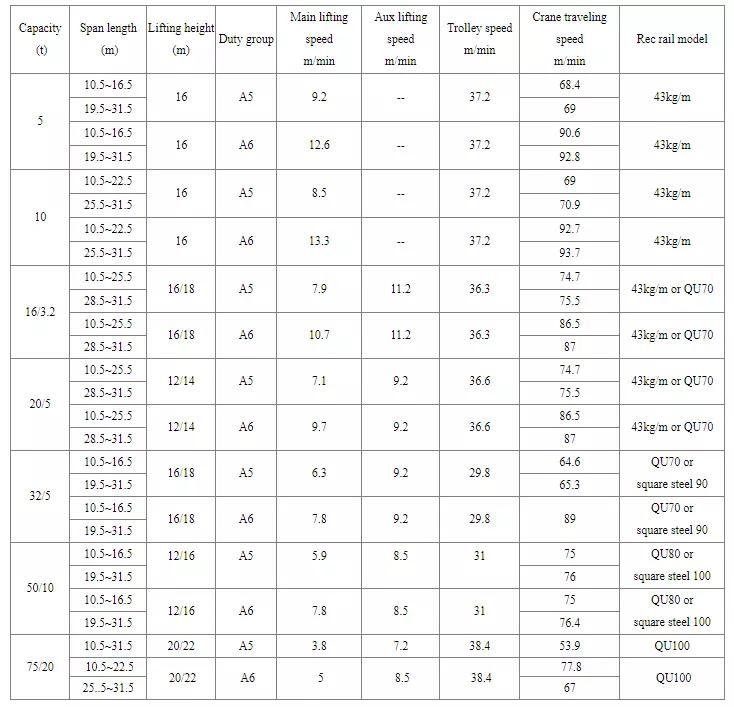 · Detailed Component Description
1.Motor: Motor adopts YZR series crane special use winding rotor three- phoase asynchronous motor. YZR series motor is suitable for driving various kinds of hoisting machinery and metallurgy auxiliary equipment, with high overload capacity and mechanical strength, especially for short-term or intermittent operation, frequent start-up, braking and significant vibration and impact of equipment. Motor protection grade is IP54, insulation grade is F class.
2.Reducer: All speed reducers in our company have installed oil receiving device to avoid the oil stain caused by oil change. The soft tooth surface reducer is the most advanced common structure design, with the steel plate welding, the gear is high quality low carbon alloy steel, widely used.
3.Brake: Adopt YWZ series hydraulic brake, this series brake uses pusher as the actuator of the brake, electric hydraulic booster is a kind of integrated motor, centrifugal pump, oil cylinder, and very compact drive control device. Mainly used for mechanical braking of mechanical driving devices such as lifting transportation, metallurgy, mining, port and building.
4.Hook block: It consists of hook and pulley. The hook material is DG34CrMo. The pulley material is Q235 hot- rolling. It adopts anti-friction roller bearing, the hook can be 360degree rotation. It is equipped with spring-pressed safety lock, preventing from slipping off. All pulleys use maintenance-free bearing, the design can efficiently prevent abrasion between steel rope and pulley shell. It has delicate overall structure and volume as well as nice appearance.
5.Coupling & Shaft: Use safe, reliable transmission performance coupling to connect the various agencies of transmission components, torque transmission at the same time compensate for certain installation errors caused by the angle and radial offset to improve the dynamic characteristics of the transmission. Brake wheel coupling includes brake wheel and braking unit. The transmission shaft adopts 45# steel material, which is strictly calculated by strength (static strength and fatigue strength).Ensure its strength and reliability, and smooth the transmission torque.
6.Buffer and limit switch: Trolley is installed JHQ polyurethane buffers, it has the good performance of absorbing the moving mechanism energy and reducing the impact.
7.Electric box: It is of IP55 protection class, air plug and fast-easy installation; Schneider/ABB/Siemens/CHINT electrical kits, etc.
· Crane production
1. Incoming test: Every batch of raw materials must be tested when they enter the factory.We set up a special testing room.It covers non-destructive inspection room, metallographic analysis and hardness inspection room, mechanics inspection and chemical inspection room. Testing methods has non-destructive testing,metallographic analysis, mechanical testing and chemical analysis, mainly testing and control of the raw materials, crane components, product.
2. Uncoiling and flattening the steel plate: After uncoiling, leveling, sizing and shearing, the required length and width of the flat sheet can be obtained, which can protect the flat sheet without scars, high shearing accuracy, double palletizing and discharging, high efficiency and speed.
3. Pressure Groove: According to crane specifications to groove pressing with different model, and main girder forming at one time can realize that the U-groove of the whole main girder of single girder crane has no butt weld, thus reducing stress concentration point, improving the strength and stiffness of the main girder, and greatly improving the comprehensive bearing capacity of the main girder.
4. Welding stiffener and welding main beam with the ending:There is a support which can keep the main girder be not deformed, and workers can work easily without bending.
5. Welding I beam and ventral: Submerged arc welding (SAW) is a kind of protective welding with Rohm double gun automatic welding, which has the advantages of full weld, deep molten pool, beautiful shape and high welding quality. At the same time, the welding distortion is reduced.
6. Checking span, welding flange: In production, the hanging plates of the main girder and the end girder are processed together, punched together, and then knock down from end beam and weld to the main girder.
7. Painting: Two-layer primer, two-layer paint.
· Packing & Delivery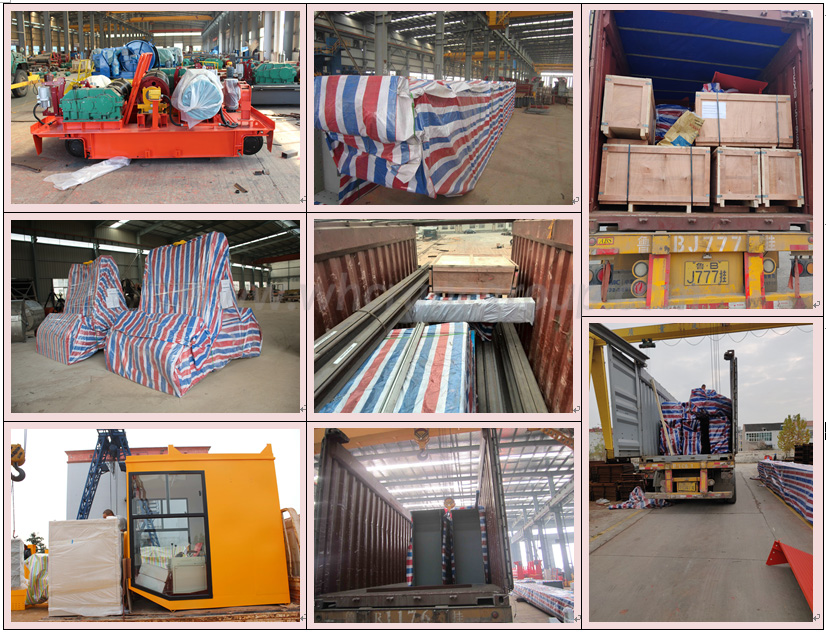 · Steel plate: Steel parts are packed in polythene woven cloth, which can prevent rainwater from directly contacting the crane and protect the painting.
· Electric parts and hoist: Electric parts are packed by strong plywood crate case, which plays a protective and moistureproof role.