Product Description
Motorized Traveling 5ton Electric Hoist For Sale
Brief Description--Electric Wire Rope Hoist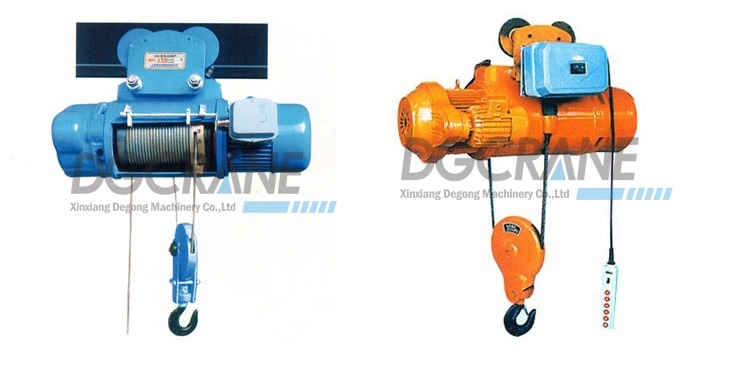 Applications--Electric Wire Rope Hoist
It can travel rotation through the trolley hanging on the I-steel, and install on the single beam crane, gantry crane, jib crane and overhang crane to rise and fall the cargos.

So it can be used in factories, mines, wharf, warehouse, freight yards, and shops and so on which need lifting equipment for lifting heavy objects.

Such as mining companies and railways, docks, warehouses. It is prohibited to manned.
Components--Electric Wire Rope Hoist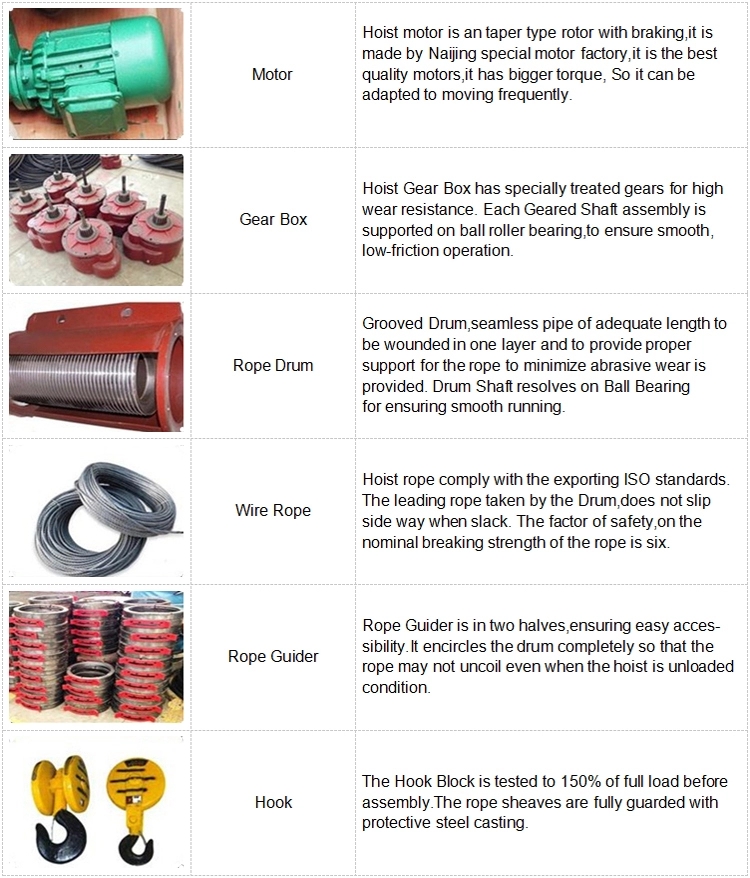 What type of electric hoist do i need?
1. Often customers are unsure as to what type of overhead lifting system will best serve their needs. Spending a few minutes now discussing the needs of your application could save you dollars (not to mention the value of improved safety) in the future.
2. Read fruther on this page to learn more about the most popular type - CD/MD wire rope electric hoist.
3. If you need other type electric hoist, please tell us, we will be pleased to be of further assistance!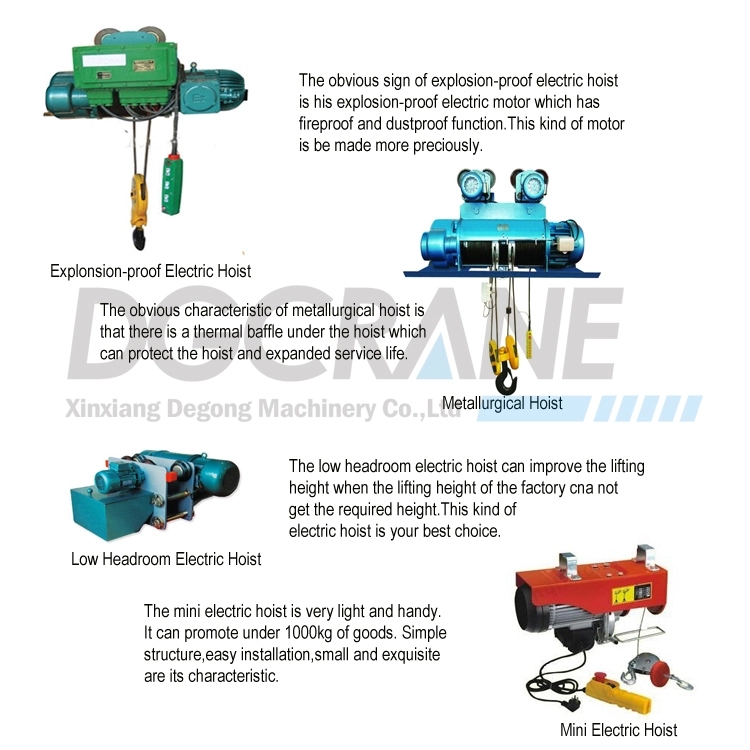 Safety Features--Electric Wire Rope Hoist
Safety is the most important issue for crane. To ensure the safety, the following safety devices are equiped in DGcranes.
1). Crane traveling limit switch
2). Weight overload protection device
3). Lifting weight limit switch
4). Voltage lower protection function
5). Phase sequence protection function
6). Emergency stop function
7). Rain cover for outside hoist, driving units, electrical cubicle
8). Warning indicator: flashing lights and warning sound
9). Wireless infra-detector for anti-collusion

Production & Delivery--Electric Wire Rope Hoist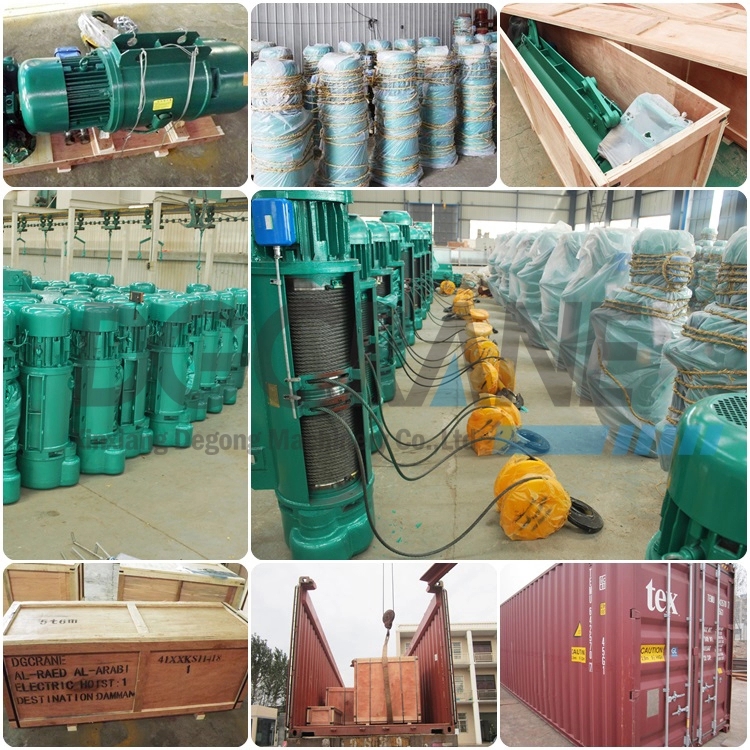 A

dvanced equipment and manufacturing shop is the guarantee.We are committed to produce the best quality products.

Electric hoist are packed by plywood crate case.
Customers Visit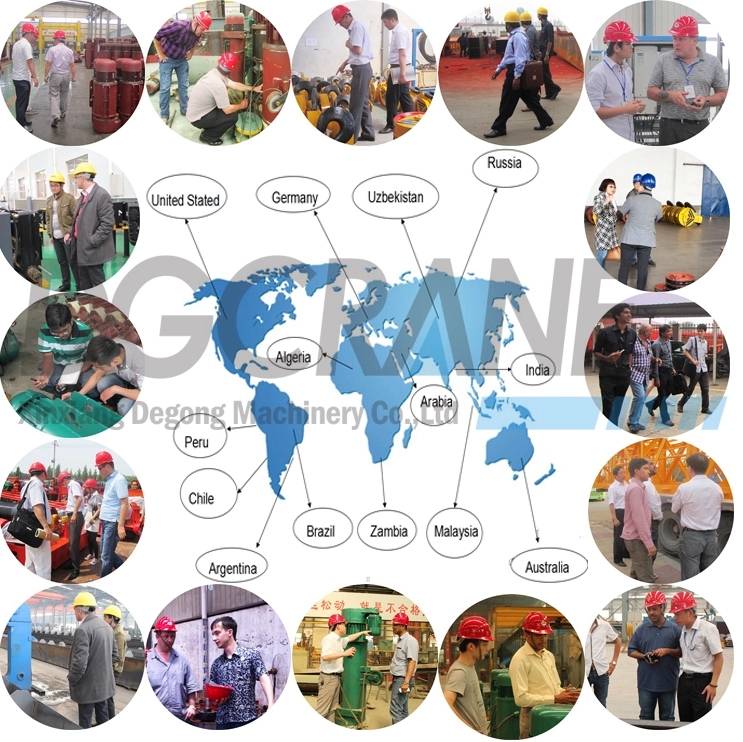 Certificates Of DGcrane